STOP infected cattle entering the herd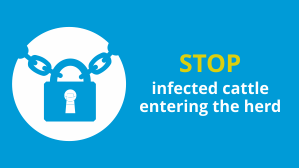 Movement of cattle is the most significant route for spreading bTB. This topic introduces the different options for trading cattle and the ways in which bTB can enter the herd. It is made up of resources to help you develop your understanding of the methods used to prevent infected cattle entering a herd. 
It introduces the following topics:
The questions to ask about a herd's bTB history before buying
Pre and post movement testing requirements
Isolation methods
Cattle trading
Click on the links below to find out more.