REDUCE the risk of infection from neighbouring herds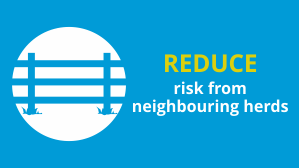 This topic introduces ways of reducing the risk of bTB infection from neighbouring cattle herds. It is made up of resources to help you develop your understanding of the risks that neighbouring herds pose and the ways in which this risk can be reduced.
It introduces the following topics:
How to check the local bTB situation
How to establish effective barriers between cattle herds
The risks of sharing equipment and how these can be minimised
Click on the link below to find out more.